Prince Józef Poniatowski
Prince Józef Antoni Poniatowski (7 May 1763 – 19 October 1813) a Polish leader, general, minister of war and army chief, who became a Marshal of the French Empire.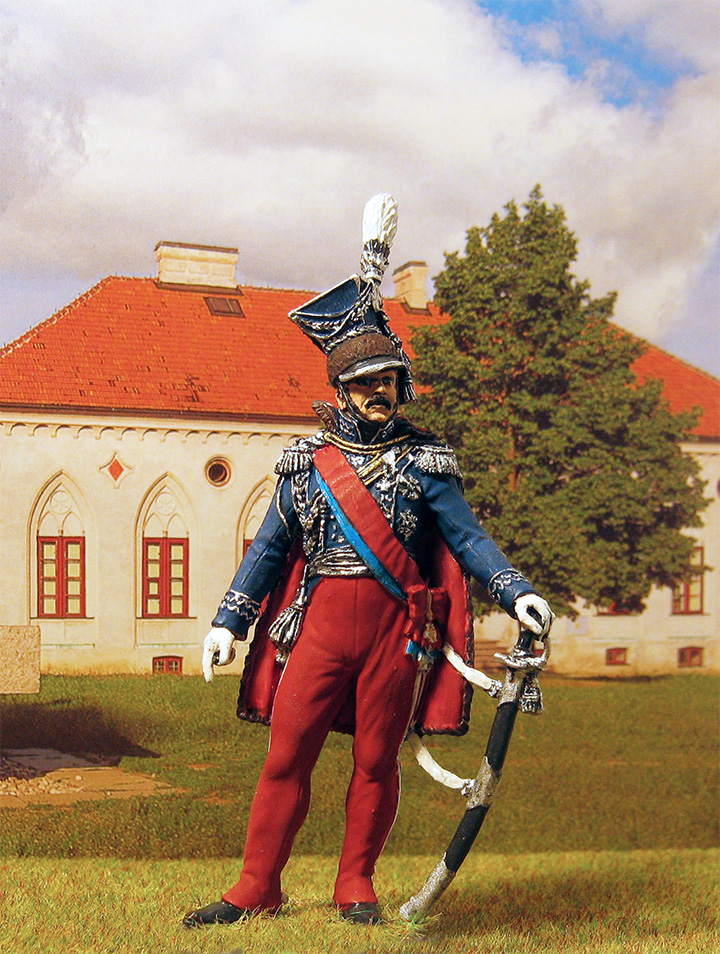 Prince Józef Poniatowski , Grand Duchy of Warsaw, EK Castings, tin, size: 54mm.
Click any picture to enlarge
Poniatowski was a nephew of King Stanisław II Augustus, his military career began in 1780 in the Austrian army, where he attained the rank of a colonel. In 1789, after leaving the Austrian service, he joined the Polish army. Poniatowski, now in the rank of major general and commander of the Royal Guards, took part in the Polish–Russian War of 1792, leading the crown forces in Ukraine, where he fought a victorious battle of Zieleńce.
After the king's support for the Targowica Confederation Poniatowski was forced to resign. In 1794 he participated in the Kościuszko Uprising and was in charge of defending Warsaw for which he was subsequently exiled. In 1798 Poniatowski was permitted to return, however, he refused the offer to serve in the Imperial Russian army submitted to him by Tsar Alexander I.
In 1806, after the creation of the Duchy of Warsaw, Józef Poniatowski was appointed the minister of war. In 1809 he commanded a 16,000-strong army during the Austro-Polish War and achieved tactical success over a larger and more experienced Austrian force in the battle of Raszyn. This was followed by the advance into the territory of Galicia. The conflict ended with a Polish victory which allowed the Duchy to partially recover lands once lost in the Partitions of Poland.
A staunch ally and supporter of Napoleon I, Poniatowski took part in the French invasion of Russia. He was injured during the fighting for Moscow which eventually forced his return to Warsaw, where he worked on the reconstruction of the Polish Armed Forces intended to fight in Germany. Covering the retreat of the French army after losing the "Battle of the Nations" at Leipzig (1813), Poniatowski was repeatedly wounded and drowned in the Elster river.